The following is a blog/letter I wrote to my children about my dad, in honor of Father's Day: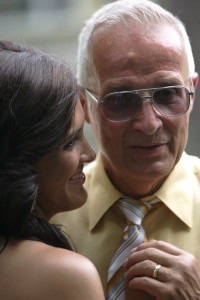 Dear Lorelei, Evan, and Andreas,
There is so much you need to know about my dad, your Pops. To put it frank, he is simply one of the greatest men you will ever meet.
You already know that he can fix anything, from a broken car, to a torn shoe, to a loose button on a shirt. You already know he can create anything, from constructing drawers into a seemingly useless wall, to building all kinds of furniture to organize our belongings, to developing a basement we can use for anything. You already know he will bend over backwards to help out his family and how much he loves all of us, especially his grandkids.
Basically, you already know that Pops is awesome.
What you might not know about Pops is that he is by far the most unselfish person and hardest worker I have ever met. Pops lost his Dad (your Pépère Gagne) at a young age, and as the oldest boy of 5 children, he took on a lot of responsibility to help provide for his family. All of his childhood, he worked a bunch of different jobs to help his mom support the household. When other kids were still sleeping, he was delivering papers. When other kids were playing, he was working in a laundromat. He worked very hard to not only be a great brother, but to also be a father figure.
Pops met Mem'Nise when they were teenagers, and they fell hopelessly in love (gross, I know, but one day you'll appreciate a good love story). Still providing for his own family, he took on even more responsibilities in order to start a life for the two of them. As they got married and built their home together, Pops continued to put those he loved first by working hard.
Through the years, everyone I have ever met who knows Pops has the greatest respect for him. He has always been valued for his work ethic, honesty, and integrity, and through the years he moved up the ranks in his profession because of these tremendous qualities he has personally and professionally.
I don't think Pops ever had the dream job he might have fantasized about as a child. I could imagine him owning a carpentry store or rebuilding old cars…but he followed a path he knew would best support his wife and children at the time. Every decision he made was for us. Nothing was ever about personal indulgence.
Now, I loved my Dad every second of every day, but boy did I love him when we went on vacations. It wasn't because he was bringing on us an amazing trip, which he did, but it was because that was when I saw my dad the happiest. We would count down the days until we left, talking every night what rides we would go on in Disney World or how nice it would be to sit around the campfire. On those trips, my Dad would be carefree and act like a kid. In retrospect, a lot of these vacations were probably not just about giving his kids what he never had, but it was also the chance just have fun…something he didn't have the luxury to do a lot in the course of his life. Those are the memories I treasure most.
No one deserved to retire more than Pops, and I have never seen my Dad happier and more himself. I feel like I have gotten to know more about who he truly is during these recent years, more so than ever before. Watching him be a grandfather to the three of you is amazing, and it makes me prouder than ever to call him my father.
So, I hope you recognize all the outstanding qualities about your Pops. He has so much to teach you, so please take in his lessons. I hope that all of you instill in yourselves so many of his characteristics of selflessness, honesty, motivation, and compassion. I can only hope to be the provider, parent, and rock that he has always been to me.
Love, Mom