The following is a blog/letter I wrote to my children about my mom, in honor of Mother's Day: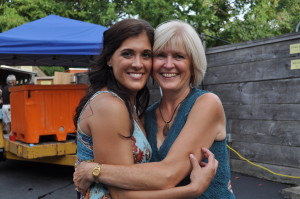 Dear Lorelei, Evan and Andreas,
Soon after I was unexpectedly diagnosed with a life-threatening heart condition at the age of 17, I opened my college acceptance letter. Opening that envelope was a moment to treasure, affirmation that life would move forward and that I still had so many positive qualities to offer this world, despite no longer being able to achieve my life-long dream of playing Division I soccer.
My mom was so excited for me. She hugged me tightly. "So you're going to major in Art, right?" she asked.
I remember being startled at her question. I'd thought only a little about what I wanted to spend the next four years studying. Yes, I loved art. I could draw and create for hours on end, and  in retrospect it helped enable me to survive the last few months of pain and confusion at suddenly being told I could no longer perform as an athlete.
My answer was a quick, "No."
Her face dropped as she questioned why. I went into my rational explanation of how majoring in Art was going to give me a foot forward in any career only if you counted the job of "starving artist." The conversation reversed the usual situation, with the parent trying to convey that the arts are a practical post-secondary option.
My mom then asked me a simple question. "If you could major in anything you wanted, without worrying about what was to come next, what would it be?"
I closed my eyes and knew, but she sensed my hesitancy.
"Follow your heart," she said. "The rest will work itself out."
I entered college as an Art major, and loved every minute of it. During my junior year, my mom called to tell me about a career she had just heard about and she thought I would love: Art Therapy. In speaking to a colleague, she learned about this field in which art was brought into the counseling process. I was sold. It perfectly combined my two big passions, helping children and creating art.
I went on to receive my Master's Degree in Art Therapy and Mental Health Counseling, and I currently work in a high school as a counselor and art therapist helping youth in need. I love my job. It seems the "rest" certainly worked itself out.
I thank my mom for encouraging me to follow my passion. She has helped me understand that it is taking on challenges that make life worth living. I'm sograteful for her love and support. She has shown me the kind of mom I want to be, and as you three grow, I hope to come close to being the rock she continues to be for me.
Thanks, Mom. I love you.